Welcome to GRAPHITE ELECTRODES AND SPECIALTIES INC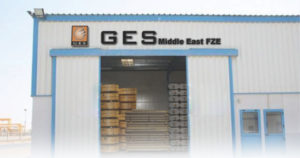 GRAPHITE ELECTRODES AND SPECIALTIES INC a family member of GES Group located at Hubli Karnataka INDIA. With its specialized products and experienced technical staff GEAS is supplying high quality Carbon and Graphite products.
Considering an increasing demand of specialty graphite globally, GEAS handles all specialty graphite to become one company to serve all kind of graphite which includes Gouging Rod, Specialties, Electrodes and Natural Graphite. Our specialties viz, Iso-Static, Vibrated, Extruded and Cold Molded graphite, with this our customers are benefiting in many industries like Gold Refinery, Aluminium, Copper, EDM, Rail Wheel, foundries and Steel Mills and many more.
With its experienced strong technical and after sales support, GEAS has become one of the responsible and reliable company in the world. GEAS follows a professional international trade, rules and regulations with a standard incoterm conditions.
Today GRAPHITE ELECTRODES AND SPECIALTIES INC is a well-known business partner for all steel, Foundry, Aluminium, Glass, Silver and Gold Refinery industries.
GENERAL HISTORY
GES is the company that is built on experience. With a family that has been in business for over 60 years, and a corporation that has been marketing carbon and specialty graphite for over many years. GES has established itself as a reliable supplier of quality products.
EXTENSIVE EXPERIENCE
The foundation of the company was established by Harry Kearney [H.M. Kearney Co.] in 1958. Then, in 1986, GES was formed by Keith Kearney to market carbon and specialty graphite. Today, GES, globally is one of the largest supplier of high quality carbon and specialty graphite. The company sells to foundries, gold refineries, glass industries and many other users.
QUALITY CONTROL
GES uses the highest standards for insuring quality with our graphite specialties and copper coated carban rods. With extensive testing on our products at our offshore facilities, we insure that all specifications are being met. All of our graphite is machined to NEMA specifications and all of our suppliers are ISO certified. GES also re-inspects, repackages and insure dependable delivery to all of our customers at our main office and warehouses. We strive to meet all customers' requirements and we deliver.